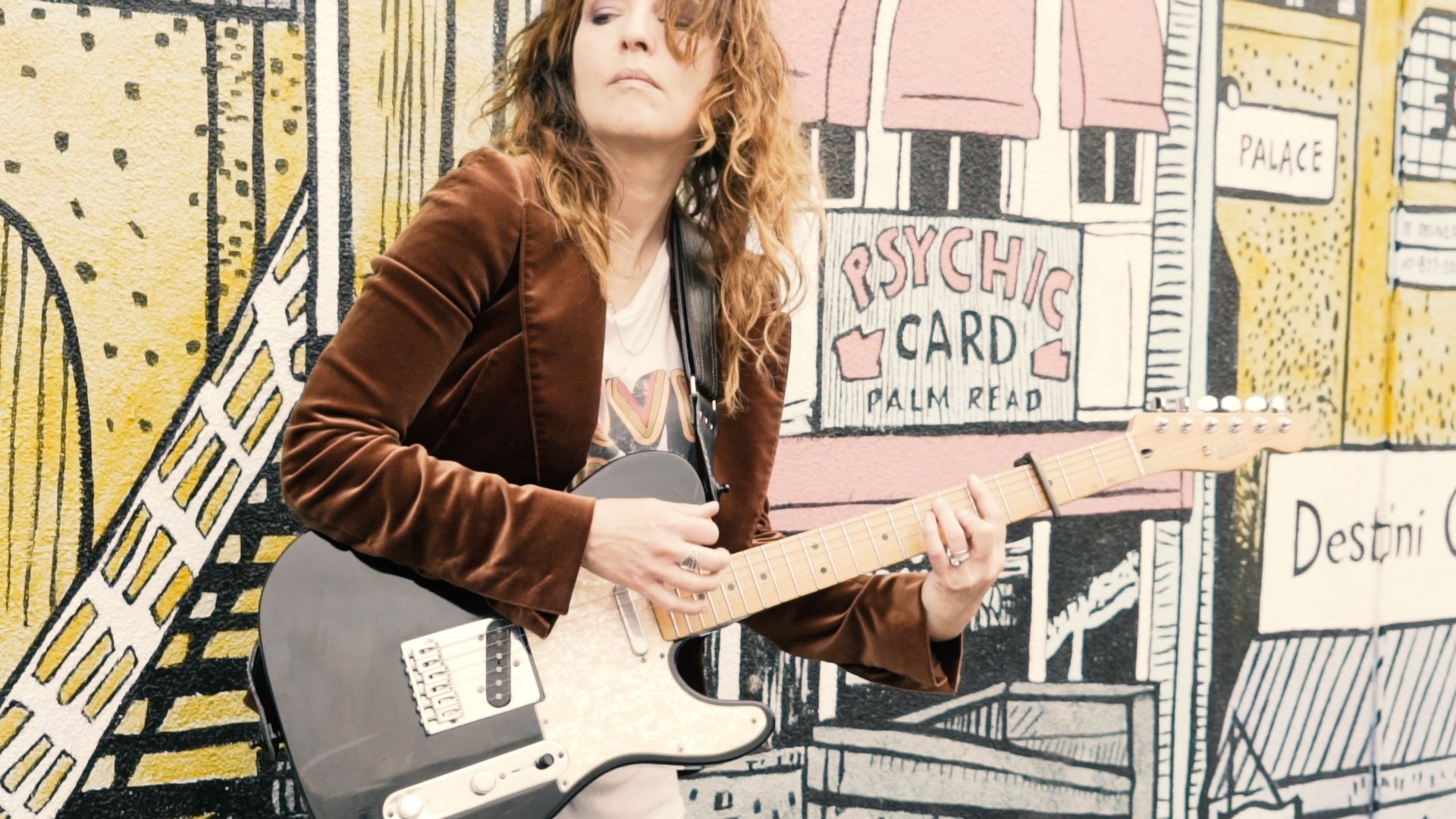 Fall is in full swing, and my band and I are working on new songs for my next album and booking shows for 2024. Check out our new live show sampler video with moments from Chicago Ribfest, Lincoln Square Summer Concert Series and the Petty Auditorium/Skokie Library!
****
After playing at Ribfest Chicago in August, it is now September. My band and I are for the most part focusing on new songs for my next album, but we have some great shows coming up in Chicago this fall.
****
Me and my band got selected by the Illinois Arts Council and Illinois Presenters Network to be a part of the Illinois Arts Tour Roster!

June 2023 is all about writing for my next album, refreshing my live set and getting a first photo shoot with the band done. We also played at Midsommarfest.

Check out my Shows page for shows this summer, including smaller intimate venues and city festivals like Rib Fest and Lincoln Square Summer Concert Series!
 
****

My story on the great Pops Staples is in the May 2023 issue of Guitar Player!
I just came back from two incredible weeks in Brazil with Rich. We visited Rio de Janeiro, the Iguazu Falls and Porto Alegre. It's great to get out and see the world.

****
April ended with a string of fun shows and many new fans who bought CD:s (thank you!). I have some May shows with the band, but I'm mostly focused on writing for my next album. 
April will involve the adventure of a lifetime (will tell more later!), but I have three Chicago shows: first a duo gig with drummer Rich Lackowski at the very cozy Sketchbook Brewery in Skokie on Sunday, April 23. My first show with the band at the beautiful Colvin House, a historic lakeside mansion in Edgewater, will be on Tuesday, April 25. We'll also play David Bash's International Pop Overthrow Festival at Montrose Saloon on Friday, April 28. Then I'm in for a two-month period of songwriting for my next album.

****
The month of March ended with me teaching workshops in Burt Bacharch's songs for guitar and an intro to R&B/Jazz chords at the Old Town School of Folk Music. My story about Pops Staples came out in the May 2023 issue of Guitar Player, with Ben Harper, Rick Holmstrom and Son Little sharing great perspectives on the man who not only invented a genre, but possibly also creator of the quintessential Americana guitar tone. In spite of a crazy midwestern tornado and rainstorms, the clouds seemed to part for me and my band as we closed out the month with our first show at The Outtaspace, sharing the stage with the excellent Belle Rangers. 

**** 2023!
The winter/spring of 2023 brought my first show at a record store (Rattleback Records in Chicago) and the launch of a series of ethnic food stories that I write for the Chicago Tribune. I also covered Aretha, Janis, Bonnie and Rosetta at a tribute show on International Women's Day, and wrote a story for Guitar Player Magazine on "How to Play Guitar Forever" in collaboration with Dr Lou Jacobs, a chiropractor/acupuncturist who's worked with Steve Vai, Trey Anastasio, and The Pixies.
On 3/14, I'll be playing at the Songwriter Night at Fitzgerald's Sidebar with David Scott Crawford and host Ron Lazzeretti. I also will teach two guitar workshops at the Old Town School of Folk Music on 3/25: Burt Bacharach songs for guitar, and an intro to R&B and jazz chords. Finally, look out for a story I wrote for the upcoming May 2023 issue of Guitar Player — it's about an artist who happens to mean a lot to me, and three heavy-weight artists offer great insights on this musical visionary.
***
My last show for 2022 will be Sat, Dec 17 at the Wrigley building in downtown Chicago! Rich Lackowski and I will play an acoustic set at Nordic House — an event space for Scandinavian culture in the Wrigley. 
I'm writing songs for my next album, excited to have a kickass 5-piece band, and we've started to book shows for 2023. I'm also working on a story for Guitar Player about a guitarist/songwriter who means a lot to me. 
  
***

After a fabulous time playing in Nashville during AmericanaFest week and at Chicago Live!, fall is on its way to Chicago. I'll be writing songs for the next album, teaching two classes at the Old Town School of Folk Music, and on 10/21 I'll be playing at The Swedish-American Museum and their concert series. 
  
I'm so excited to be playing at the 2022 AmericanaFest in Nashville! Also have more shows in Chicago, including Chicago LIVE! at Navy Pier. 
I unveiled a new song at Jenny Bienemann's haiku milieu — a popular singer-songwriter show in Chicago — on 7/28. Looking forward to recording it this year. It feels great to be writing again after the move from LA to Chicago! 
  
First show with my Chicago band is at Midsommarfest in Andersonville on June 12 at 1:00 PM! See the shows page for more dates. 
My interview with Courtney Barnett is the cover story for Guitar Player Magazine! Check out the Feb 2022 issue. 
My Chicago-based band is coming together, and hopefully the pandemic will be under control, so that we can be performing in 2022. 
  
My new home town of Chicago is treating me kindly. I got my first writing gig for the Chicago Tribune, covering the Pitchfork Music Festival, and I'm teaching two workshops again at the Old Town School of Folk Music on October 9! Here are the links: 
Pop & Rock Songwriting Tricks 
 Short and Sweet Solos Made Easy 
I had the great honor of writing an eight-page story on Teenie Hodges in Guitar Player Magazine's August, 2021 issue. Teenie played on Al Green's and Ann Peebles' classic albums, and he also co-wrote "Love and Happiness," "Take Me to the River," and many more of Green's classic songs. He has always been one of my guitar heroes, so this means a lot to me. 
  
The Old Town School of Folk Music in Chicago is legendary, and I'm thrilled to be teaching two workshops there on Saturday, July 10. Here are the links: 
Intro to Rock and Americana-style Fills & Solos 
Classic Pop & Rock Songwriting Tricks 
Very excited about and thankful for all the European radio stations, including Folkal Point (Scotland); Hillbilly Rockhouse, Country Jukebox, N.B.T. Music Radio and Eine kleine Weltmusik (Germany); Blues Jean and Country and Co (France); Highway 61 and Mystery Train (Italy); the Jane Weber Show (Slovenia), the Paul Van Gelder show, Late Night Tracks, Blueprint, Country File, Gonzo's Return, Happy Family Show, and Muziek En Toch (The Netherlands),  and Morning Country Music (Denmark) — they are playing every track from World is Waiting! 
Late for the Sky in Italy and reviewer Paolo Baiotti gives a stellar review of World is Waiting: "Nikki demonstrates a remarkable sense of melody..." 
Hifi & Musik in Sweden and reviewer Bengt Eriksson enjoys World is Waiting: "This is really good. Tough and soft all in one; melodic even those it's bluesy and rockin'. She also has a voice that can handle the tougher genres." 
Planet Country in Italy also gives a very positive review of World is Waiting: "...an album that is not long, but always lucid and straightforward, immediate and catchy, from the opening of "That's How You Lose Her" to "Take Back What I Said" which leaves the listener with the awareness of being in front of a name that deserves attention and consideration." 
Country Jukebox in Germany gives a glowing review of World is Waiting: "You rarely find such a delightful, musical gem as NIKKI O'NEILL's new album..." 
  
Germany's Musik An Sich reviews the album too: "The ballad "A Place At The Table" fits very well… the band also presents it very well." 
  
Popgeni in Sweden has reviewed World is Waiting: "On her second solo album... she understands the art of songwriting and how to deliver, and she demonstrates this with class and style." 
  
Rootsville in Belgium reviews the album as well: "Nikki O'Neill has a timbre that you never get tired of." 
  
A music reviewer for the Swedish arts & culture blog Blaskan writes about the album: "I'm listening to an excellent songwriter and musician... One of the finest albums out there right now." 
  
Six months into my new life in Chicago, I've been playing and teaching a lot of guitar, doing live stream shows, and even started writing a family memoir during the Covid lockdown. But now I'm excited to announce my first live show this year on May 22!  
  
I'll be swapping songs and talking about favorite books with Arielle Silver on her livestream show, Tomes & Tunes, Thur 3/11 at 2 pm PT/5 pm ET! 
Mike Meiers and I talk about finding "your thing" as a guitarist, surprising opportunities, and how to stay creative on his podcast Songwriting for Guitar. 
Tune in to Austin Music TV on Thur 2/25 at 9pm Eastern, as they'll be showing my music video for "World is Waiting"! 
In honor of Black History Month, I transcribed Sister Rosetta Tharpe's great guitar solo on "Up Above My Head." Watch the video here.  
Ireland's Lonesome Highway reviews my album. 
Willie Nelson, Rhiannon Giddens, Mary Chapin Carpenter... and "World is Waiting." On Rootsy Music's and reviewer Magnus Eriksson's list of the Best Albums of 2020!! 
Tuesday 12/8, I was interviewed on the Country Du Monde radio show on Gimme Country with host Jimi Palacios!  
  
Lira Musikmagasin — Sweden's quarterly roots/world music journal — exclusively premieres my new video for "All I Wanna Be is Yours," calling it "joyful Americana meets road movie." 
  
Sweden's Rootsy Music and Lira Musikmagasin review my album. 
UK magazine Blues from the South reviews my album. 
Ditty TV - The Curve airs my music video for "You're the Only One Who Gets Me" on The Curve Wed Oct 21 at 10 PM Central and Thur Oct 22 at 10 AM. 
Americana Highways  interviews me about the power of music and my new album. 
Take Effect reviews my album, giving it an 8 out of 10 rating. 
Americana Highways reviews my album: "Nikki O'Neill gives us one of the brightest and most pleasant listening experiences of the year..." 
Guitar Girl Magazine reviews my album. They also interviewed me about it. 
My album receives positive reviews in the Netherlands and Belgium! Here are the reviews by Real Roots Cafe, Slim Chance is Back, Keys and Chords, and Rootstime (the last one is in Dutch). 
Glide Magazine reviews my album. 
American Songwriter exclusively premieres my second video, "World is Waiting," reviews the album with 4 out of 5 stars, and interviews me! Check it out here! 
Vents Magazine exclusively premieres my song, "A Man for All Seasons."  
I got added to the "Local Music Spotlight" on KCSN 88.5 FM SoCal on Sept 28 and also on Oct 12! 
A truly great weekend for me, having my songs played on Roots Music & Beyond (KPFK 90.7 FM) on Saturday, and also Americana Matinee (88.5 FM) in Los Angeles on Sept 26-27. 
A big thank you to NoLA County (WHIV 102.3 FM), Rock Therapy (WPKN 89.5 FM) and the great radio shows in the UK and Germany that have played songs from my album. 
Imperfect Fifth has premiered the video for my song, "You're the Only One Who Gets Me".  
Americana Highways is premiering my song, "That's How You Lose Her"!  
And Making a Scene is featuring two more songs from "World is Waiting" on their podcast, LIVE from the Midnight Circus. Pre-save the album now. 
I'm so happy, grateful and honored to join the artist roster at Blackbird Record Label! My new album, "World is Waiting," is out October 16, 2020.  
What role has risk played in YOUR life? In this interview with ShoutoutLA, I share what it's done in mine. I also talk about how I'd give friends a tour of Los Angeles; "Around the World in LA" (Rich's and my culinary &  culture project), and my upcoming album... 
I want to thank everybody who supported my Kickstarter campaign for my next album, "World is Waiting," which successfully met its goal. 
I was very honored to be in the November 2019 issue of Guitar Player Magazine, interviewed by the great blues artist Sue Foley. 
In October, 2019, I launched my new guitar lesson channel on TrueFire.com: "Nikki O'Neill's Twang, Soul & Rock 'n' Roll."  
We had a great time performing at the 2019 Americanafest as part of the California Country showcases. We also opened for Southern Avenue at Hotel Cafe, which was great fun!  
Voyage LA Magazine interviewed me about my multicultural upbringing; how I got into music and when I was a writer in NYC, interviewing Robert Plant and Neil Young.  
And Tribe LA Magazine interviewed me about my creative process; style; favorite places in LA and my audition for Courtney Love... 
A very special THANK YOU to "The Big Fat Wide Americana Hour" radio show, who listed "When Do I Tell Him" as one of the Best Songs of 2018, and the 100 Americana/Blues stations who played my songs last year, including "The Governor's Mansion" (New Orleans); "Blues Corner" (UK); "At the Crossroads" (Canada) and many more. 
Due to COVID-19, nobody's performing in the traditional sense now, but you can check out my shows page for live streamed concerts, which I'll be doing more of in 2020-21... 
Nikki 
MUSIC 
You can get my music on iTunes, Apple Music, Spotify, Amazon, Bandcamp, and here below.